All Blog
EXCLUSIVE RELEASE: Infused Chocolate
by Christopher Ferraro on Nov 06, 2023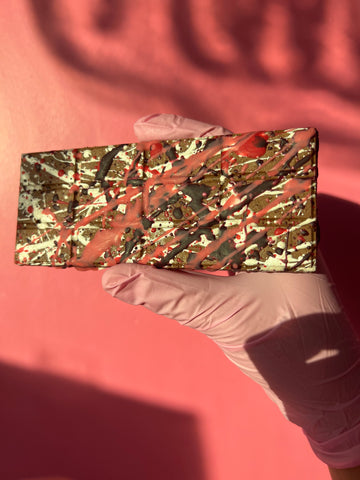 Elevating the art of chocolate-making, our inaugural release features a velvety Milk Chocolate bar, promising a tantalizing journey for the senses. Embrace the rich fusion of high-quality ingredients and premium THC for an indulgence like no other.
Crafted by seasoned artisanal chocolatiers, each bar is a testament to precision and creativity. What makes these bars truly exceptional is the unique custom chocolate splatter design adorning each piece. Our chocolatiers meticulously handcraft each bar, ensuring not only an infusion of THC but also an aesthetic touch that makes every piece a work of art.
We understand the importance of accurate dosing, which is why each square contains precisely 10mg of THC. With 12 squares per bar, the entire bar totals 120mg of THC. This allows for a consistent and measured experience, catering to various individual preferences. We use only the finest ingredients to ensure a smooth, delectable taste that's bound to satisfy your chocolate cravings.
At Higher Flour, quality is non-negotiable. Each bar undergoes rigorous double lab testing to ensure the precise THC content, as well as to confirm the absence of any impurities. This commitment to quality and safety guarantees a reliable, enjoyable, and safe experience for our valued customers.
While our first release is the delectable Milk Chocolate flavor, we're excited to announce that more tantalizing flavors will soon follow. Stay tuned as we continue to push the boundaries of infused chocolate, offering a diverse range of tastes to suit different palates.
We believe in providing premium quality at an accessible price. Our THC-infused chocolate bars are available for just $35, offering a high-quality, handcrafted experience without breaking the bank.
Indulge in the divine synergy of artistry and cannabis with Higher Flour's THC-infused chocolate bars. Whether you're looking to unwind or seeking a flavorful journey, our bars promise an exquisite, blissful experience.
Embrace the decadence and elevate your moments with Higher Flour's artisanal, THC-infused chocolate bars
.