All Blog
Danksgiving is almost here!
by Christopher Ferraro on Nov 15, 2023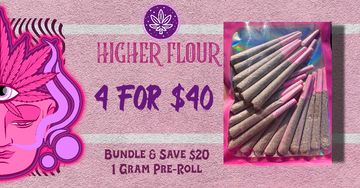 As the season of gratitude and celebration approaches, Higher Flour is thrilled to introduce a limited-time selection of Thanksgiving-themed pre-roll strains that will elevate your holiday experience. Whether you're looking to relax, unwind, or simply enhance the festive spirit, our unique strains have been carefully curated to complement the joyous occasion. To add a sweet twist to your Thanksgiving celebrations, we've also crafted THC-infused seasonal cookies available in three delectable flavors: Pumpkin Spice Latte, Caramel Apple, and Chocolate Churro, each containing 25 mg of THC.
The Pre-Roll Lineup:
Cranberry Cough: Kick off your Thanksgiving festivities with the zesty and uplifting notes of Cranberry Cough. This strain is perfect for enhancing your creativity and socializing with loved ones.

Dank Sinatra: Set the mood with Dank Sinatra's smooth and calming vibes. Ideal for winding down after a hearty Thanksgiving meal or as a companion during a leisurely autumn stroll.

Pie Face OG: Indulge in the comforting and euphoric effects of Pie Face OG. This strain is sure to add a touch of relaxation to your holiday celebrations.

Danksgiving: Embrace the holiday spirit with Danksgiving, a specially crafted strain that combines earthy aromas with a sense of gratitude. Perfect for enhancing your appreciation of the season.

Lunar Haze: Elevate your senses with the celestial experience of Lunar Haze. This strain is ideal for those looking to explore a more introspective and contemplative state of mind.

French Cookies: Transport yourself to the streets of Paris with the delightful and sophisticated flavors of French Cookies. This strain offers a balanced experience, making it suitable for both daytime and evening use.

Apple Jack: Conclude your Thanksgiving celebrations on a sweet note with the fruity and uplifting vibes of Apple Jack. This strain is perfect for unwinding and reflecting on the day's blessings.
Pairing with THC-Infused Seasonal Cookies: To enhance your Thanksgiving experience, we've carefully paired each pre-roll strain with our THC-infused seasonal cookies.
Pumpkin Spice Latte: Pair with Dank Sinatra for a cozy and warm sensation, creating a perfect balance of flavors that will transport you to a festive autumn day.

Caramel Apple: Indulge in the sweet and savory notes of French Cookies while enjoying the rich and gooey goodness of our Caramel Apple cookies for a delightful combination.

Chocolate Churro: Enhance the experience of Lunar Haze with the bold and decadent flavors of our Chocolate Churro cookies, creating a sensory journey that will leave you blissfully satisfied.
This Thanksgiving, elevate your celebrations with Higher Flour's limited-time pre-roll strains and THC-infused seasonal cookies. Whether you're seeking relaxation, creativity, or a touch of euphoria, our thoughtfully curated offerings are designed to enhance your holiday experience. Share the joy, gratitude, and laughter with Higher Flour, where quality meets celebration.