All Blog
Unveiling our Sweet Secret: Higher Flour's Second Storefront
by Christopher Ferraro on Sep 05, 2023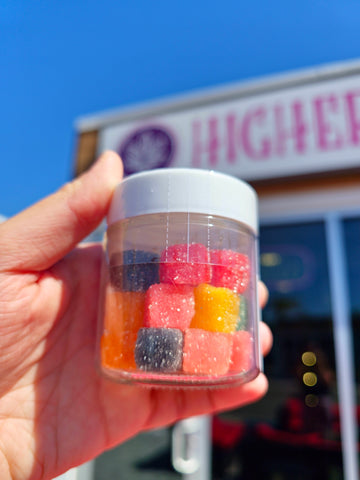 At Higher Flour, we've always believed in crafting experiences that are as unforgettable as they are delightful. That's why we are thrilled to announce the soft opening of our second storefront, nestled at 3450 US 19, Holiday, FL 34691. This new location isn't just another shop; it's a top-secret candy manufacturing facility for our infused Delta 8 THC edibles, a haven for all things sweet and satisfying.

A Peek Behind the Curtain

Step inside, and you'll be greeted by the tantalizing aroma of freshly baked cookies. What sets us apart is our commitment to transparency. Our grand glass display cases offer a front-row seat to the magic happening in our candy kitchen. Watch as our skilled artisans craft our signature chocolate bars and vegan organic gummies from scratch. It's a symphony of flavors, textures, and colors, all on full display for our valued customers.

A Splash of Pink and Artistry

The entire interior is bathed in a vibrant pink hue, creating an atmosphere that's as welcoming as it is Instagram-worthy. The original murals that adorn our walls are a labor of love, created as a collective effort between our dedicated owners and talented employees. Every brushstroke tells a story, making your visit a feast for the senses.

Accessibility for All

We pride ourselves on being accessible to everyone. No medical card is needed to enter our sweet sanctuary. If you're 21 and up, you're welcome to indulge in our handcrafted creations and experience the world of Delta 8 THC edibles in a whole new way.

The Importance of Freshness

At Higher Flour, freshness isn't just a buzzword; it's the cornerstone of our philosophy. In a previous article, we explored the crucial role freshness plays in THC edibles. It's not just about taste; it's about the potency and the experience. We take this seriously, ensuring that every cookie, chocolate bar, and gummy that leaves our facility is as fresh as can be, providing you with the best possible experience.

A Destination Worth Visiting

Our Holiday, FL location is more than just a store; it's a destination. Whether you're a seasoned connoisseur of edibles or a curious newcomer, we invite you to step into our candy wonderland and embark on a journey of taste and delight.

Join us NOW for our soft opening and be among the first to experience Higher Flour's second storefront. Your sweet adventure awaits, and we can't wait to share it with you. See you at 3450 US 19, Holiday, FL 34691, where dreams are infused with flavor and sweetness knows no bounds.