All Blog
New Seasons, New Beginnings, NEW FLAVORS
by Christopher Ferraro on Sep 09, 2023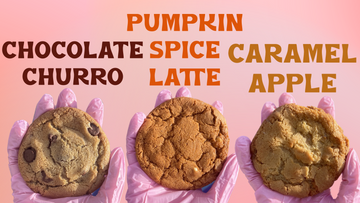 As the leaves begin to change colors and the air turns crisp (everywhere else except for Florida), we at Higher Flour are excited to unveil a delectable array of fall-inspired cookie flavors that will leave your taste buds dancing with delight. At Higher Flour, we take pride in being Florida's first legal dispensary that doesn't require a medical card and the only place where you can savor freshly baked edibles on-site. Our commitment to quality, innovation, and the ultimate culinary experience shines through in every batch we create.
Introducing Our Fall Cookie Lineup
1. Caramel Apple Cookie:
Imagine sinking your teeth into a heavenly blend of caramel-infused cookie dough, tender diced apples, and delectable toffee bits. Our Caramel Apple Cookie is a delightful fusion of sweet and tart flavors that will transport you to the heart of autumn with each bite. It's like enjoying a caramel apple fair treat, but in a conveniently portable form.
2. Pumpkin Spice Latte Cookie:
The beloved taste of fall is captured perfectly in our Pumpkin Spice Latte Cookie. With aromatic pumpkin spice and the comforting essence of a latte, this cookie is a cozy companion for your seasonal cravings. The addition of luscious white chocolate chips adds a creamy, indulgent touch to this fall favorite.
3. Chocolate Churro Cookie:
Get ready to experience the warmth and comfort of a churro with a delightfully chocolatey twist- our Chocolate Churro Cookie. Featuring cinnamon and spice-infused cookie dough, complemented by rich chocolate chips, this cookie is a harmonious blend of sweet and spicy flavors. 
Why Choose Higher Flour?
Legal Accessibility: At Higher Flour, we're proud to be Florida's first legal dispensary that welcomes everyone, without the need for a medical card. We believe that everyone should have access to the highest-quality edibles. 21 & Up.

Freshly Baked On-Site: Our commitment to freshness is unwavering. We bake our edibles on-site daily, ensuring that each cookie is at the peak of its flavor and potency when it reaches your hands.

Exceptional Deals: Higher Flour is offering you two irresistible promotions for all cookies:

Buy 3 Cookies, Get 1 Free (Save $10)
Buy 3 Boxes, Get 1 Free (Save $40)

Gourmet Handcrafted Recipes: Our recipes are crafted with passion and precision, resulting in gourmet edibles that elevate your culinary experience.

No Hemp Flavor: We understand that the distinct taste of hemp can be off-putting for some. Rest assured, our cookies are designed to be delicious, without any hint of hemp flavor.

Consistent Dosage: Each cookie contains 25 mg of carefully calculated Delta 8 THC, so you can enjoy a consistent and controlled experience.
This fall, embrace the season's flavors with Higher Flour's delectable cookies. Whether you're an experienced connoisseur or new to the world of edibles, our fall lineup promises a memorable and mouthwatering experience. Mark your calendars, as these irresistible treats are coming soon!
Don't miss out on the flavors of fall – visit Higher Flour and indulge in the world's best edibles, handcrafted with love and expertise. Your taste buds will thank you.
Release Date: Pending