All Blog
How Yummy are the Gummies?
by Christopher Ferraro on Sep 02, 2023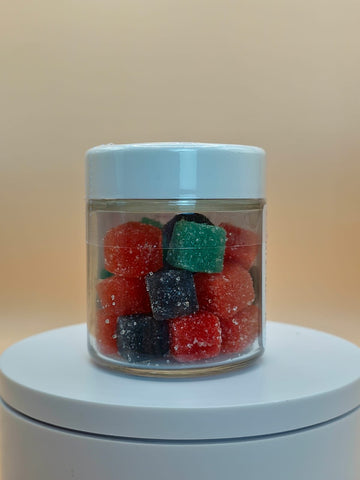 Introducing our in-house crafted vegan organic gummies—a true delight for your senses and well-being. Made with love and care, our gummies boast all-natural colors and flavors, leaving out harmful chemicals that often find their way into most gummies. We take pride in what's NOT in our gummies; no preservatives, just pure goodness. Crafted from pectin, these gummies won't melt easily and have an impressive one-year shelf life, ensuring you can enjoy them whenever you please.
Each 25 mg delta-8 THC gummy contains less than 1 gram of sugar, offering a delicious and guilt-free experience. Rest assured, our gummies undergo lab testing for quality and consistency, so you can indulge with confidence. Discover the difference of our vegan organic gummies, where purity and taste come together in every chew.